Effective stakeholder engagement can mean the difference between successful project delivery and project failure. We BAs work closely with stakeholders to understand their needs and ensure they are translated into solution requirements. If we don't engage with our stakeholders successfully, requirements may be missed or misinterpreted leading to products and services that fail to deliver the outcomes expected.
Also, stakeholders often have very different expectations on what is, or is not, going to change. Something that seems like an improvement to one group of stakeholders may be perceived as a retrograde step for others. For example, an energy company that wants householders to download an app to submit meter readings and receive bills – the householders just want to keep things the same as they are now - it's much easier!
So we must plan our approach carefully to establish, maintain and monitor effective working relationships with our stakeholders. Conducting stakeholder analysis helps us understand various stakeholder types, perspectives and attitudes to ensure they are engaged and will work with us to deliver successful project outcomes. There are many tools and techniques to perform stakeholder analysis including power/interest matrix, RACI, personas, and onion diagrams etc. However, we also need to analyse the mindset of our stakeholders – a deeper level of analysis - to understand how they will react in various situations, and how we may respond to them.
By examining their perceptions, beliefs and opinions we can identify how we can best work with them to understand their needs, while maintaining healthy, productive relationships. This means we must also know ourselves sufficiently to adapt to situations that arise with them, while avoiding causing misunderstanding, confusion or conflict. We must be willing to look within ourselves to understand how our behaviour, words and postures may be perceived. This is where mindfulness is needed.
Mindfulness enables greater self-awareness to help us remain conscious of how we are acting and being perceived when engaging our stakeholders. It allows us to put our own perceptions and beliefs aside to see things accurately, as they are with clarity, free from our own assumptions. We remain open to new ideas and willing to see things differently, from their point of view, dropping our own preconceived notions. Mindfulness helps us be more aware and attuned to our stakeholders' needs and attitudes while remaining calm and considered in our approach even with the most challenging stakeholders.
Mindfulness also helps us focus, remain present and truly listen to our stakeholders to better understand their needs. They need to feel as though their needs are important. They want to share their challenges, wishes and insights. And stakeholders can sense whether you are listening or not. As this great quote from Maya Angelou says, "People won't remember what you said or did, they will remember how you made them feel". We can help our stakeholders feel heard, understood and that we care about their needs.
The 'Stakeholder Engagement Canvas' is a technique I developed that helps us perform that deeper level of stakeholder analysis. This new tool looks at various aspects of the stakeholder's mindset in context to the project as well as examines how best we can be more mindful during our engagement with them.
The canvas contains nine areas to analyse to develop a clear picture of how best we can engage with the stakeholder. By examining each element thoroughly, we can formulate a mindful engagement plan to assure successful engagement. While best used to analyse one stakeholder at a time, it could be used to analyse a group or category of stakeholders.
Here's an example Stakeholder Engagement Canvas for a stakeholder, John McKenzie, a marketing manager of a medium sized furniture store:
With all the elements explored and considered, now we can put together an action plan that will ensure we can effectively work with John and employ various mindfulness techniques to build rapport, trust and engagement.
Successful stakeholder engagement starts with understanding ourselves. Mindfulness helps us look deeply at ourselves and our stakeholders to build effective, and harmonious, stakeholder relationships.
To learn more about applying mindfulness to stakeholder engagement, and to use the 'Stakeholder Engagement Canvas', join one of my "Successful Stakeholder Engagement" or "Mindful Business Analysis", courses – new courses being announced soon. Keep in touch via Linkedin https://www.linkedin.com/in/kathy-berkidge/ or check out my website https://mindatworkconsulting.com.au/
Kathy is a BA professional with 30 years of experience in I.T. She delivers BA and agile training and coaching to many organisations in Australia and around the world. Since 1999, Kathy has been studying, practicing and teaching mindfulness. Kathy works with teams and individuals to implement mindfulness practices to improve teamwork, be more innovative and deliver better customer value. She is passionate about seeing people, teams and organisations succeed and thrive in an environment of collaboration and harmony.
BALIFE
So here we are 43 days, 21 hours, 59 minutes and so many seconds away from launching our first-ever "Business Analysis Learning and Innovation Festival Edinburgh". Aka BALIFE.
By the time you read this blog, who knows, maybe it'll be 40 days or even 35 days and so many hours and minutes! It's as if time has started to accelerate!
As I write this a group of volunteers, with full-time jobs of our own, are currently up to our necks in extra work. To get this, our very first BA learning festival in a day, off the ground.
And we couldn't be happier, because today all our hard work starts to come to life as we complete our training on our virtual platform and start to upload the wealth of information we've already gathered. Suddenly, BALIFE has transformed from a pipedream to something very, very real.
We've been talking about this for a few years now, after attending other conferences, combined with many years of building a great community of BAs in Scotland and the North through IIBA and other meetups. And in that time, a few like-minded BAs realised there was a gap to be filled.
Let's face it… we all prefer to stay more local and even the best of us needs encouragement to travel to these bigger conferences!
What's more, we felt we could work alongside such conferences by running a smaller single-day event, showcasing the learning opportunities gained from coming together as BAs for a learning and innovation event.
Coincidently, IIBA had also been considering the merits of such an event and were keen to get involved… and so a partnership was formed.
First, we had to come up with a great name and of course, being BAs, we went about this methodically, drafting a mission and then extracting the name.
The first part of the name was pretty easy: "Business Analysis"! Then, it was all about the two key themes, "Learning and Innovation". But how to turn this into a nice acronym? (Which as we know is key to the success of any product!)
After a bit of head-scratching and a few rounds in the pub, we had it: Our event was going to be held in Edinburgh, the 'home of the festival' (with the largest arts festival in the world every year) and so it became "Business Analysis Learning and Innovation Festival Edinburgh" BALIFE! Perfect!
With the name and logo set, we worked through 2019, confirmed a date for early June 2020, booked a great venue and arranged an array of amazing speakers. Busy as we were, our excitement levels were high, and we were all systems go… then… well, we all know what happened next.
After a few months of lockdown, it was clear the conference would be a no go for face to face, and so we decided to cancel and regroup for the following year, hoping by then face to face would be possible.
2020 passed and following a well-earned rest, we picked up the challenge again, but this time we made the decision to go with a fully virtual event.
And so here we are today!
We are now in the final stretch, still with a long list of things to do, selling tickets and facing the very exciting prospect of being about to (finally) showcase BALIFE!
So, what's in it for you, the BA?
Well, as a BA I'm sure you've heard others say or even thought it yourself:
"I don't join formal meetups because so many people don't understand what BAs do as a job"
Or
"Where are the Business Analysts at these things?"
Those days are over, because BALIFE is designed by BAs for BAs and like I said earlier, it's all about learning and innovation… in Business Analysis.
The 15 presentations and 2 brilliant keynote talks have been brought together based on the experiences of working BAs, who are facing the same issues and challenges that many practicing BAs face today.
In essence, the subjects have been picked with you, the BA, in mind, showcasing old and new techniques that are important and relevant to our community, including reflecting on you as an individual and the importance of self-resilience.
During the BALIFE 'festival in a day', you will have access to 15 amazing and varied presentations over 3 different parallel tracks entitled:
Thinking about Design
The Human Touch
Driven by Process
On top of this, we have two brilliant keynote speakers in Tom Meade and Michael Christon, both with a unique message. Tom is a former CIO and true IT leader, whilst Michael is an unconventional business trainer and a master of language. Michael's keynote promises something quirky that's not to be missed!
You will have the opportunity to meet and chat with speakers, other delegates, sponsors, and committee members in an active learning environment. Attending could also earn you IIBA Credits toward your next certification.
And that's not al. If you fancy it, you can even join us for a (virtual) Gin tasting afterwards!
As a committee of BAs, we've learnt a lot as we've set about bringing BALIFE to you, not least about collaboration and connectedness. We know you'll learn so much more when you join us at BALIFE, your BA festival in a day.
"Blessed are the curious, for they shall have adventures."
…anonymous
Our journey so far has certainly been an adventure - and now it's your turn.
Join us on the 3rd June 2021 as the adventure continues with BALIFE2021!
So what are you waiting for? Grab your ticket now from www.balife.co.uk and I'll 'see' you there!
Linda Parker
---
Mapping Business Analysis to the SFIA skills framework
Do you remember what you were doing on New Years Eve 2020? Staying at home, following Covid guidelines, of course! So was I. But it was a memorable day because I had my first conversation with Peter Leather from SFIA about forming a collaboration with IIBA UK. Peter had been guided towards me to discuss the potential to map the Business Analysts Body of Knowledge – the BABOK- to the SFIA skills framework.
What is SFIA?
For those who don't know much about
SFIA
, here is a crash course. SFIA is a common reference model for describing and managing skills and competencies for professionals working in
Information and Communication Technologies
, software engineering and digital transformation. It is a global common language for describing skills and competencies in the digital world.
SFIA v7 has 102 Professional Skills including some which directly map to our profession such as "Business Analysis" (BUAN) and "Requirements Definition and Management" (REQM). But what about the other 100 skills – do Business Analysts not apply any of these too?
I examined this question myself some years ago. When I first started leading BA teams, I was looking to clearly define the levels within our BA job family and our overall remit as BAs. A contact outside of my organization explained how they had used SFIA for this very purpose. Knowing that it had worked for them gave me the confidence to use it to underpin the re-definition of our job roles and career path. But I had to do this myself locally. IIBA didn't offer an off-the-shelf set of mappings to SFIA. So, when Peter approached me on that cold and dreary New Years Eve, I jumped at the chance!
What do we map SFIA to at IIBA UK?
Chances are that you have heard of the BABOK or BA Body of Knowledge, written and maintained by IIBA, but here is a super quick overview for those less familiar with it. Wikipedia defines a "body of knowledge" as "the complete set of concepts, terms and activities that make up a professional domain, as defined by the relevant learned society or professional association". In our case, that professional association being IIBA.
The BABOK contains six key knowledge areas as follows.
Peter threw down the gauntlet and I took up the challenge to map each of the six BABOK knowledge areas to the SFIA skills, with a little help from my colleagues on the board at IIBA UK. On February 15th Peter and myself shared the draft mappings with the community via an IIBA UK webinar, the recording for which can be found here. In this session, we introduce the mappings and explain how we think they can be used. The recording is around 60 minutes – please note that you must be logged in as an IIBA UK member to access this.
Show me the mappings then!
The set of six mappings are found here. Below you can see one of them, so you can appreciate what each page contains and how it is laid out.
This is our first draft based largely on my experience of 20 years in Business Analysis but of course, the BA role is somewhat fluid and ever changing. With that in mind please take a look and let me know what you think; all feedback is welcome – just drop me a line at saffron.house@iibauk.org.
We are also keen to know how you make use of the mappings. Here are some of the potential uses we have identified, but there may of course be others. Let us know!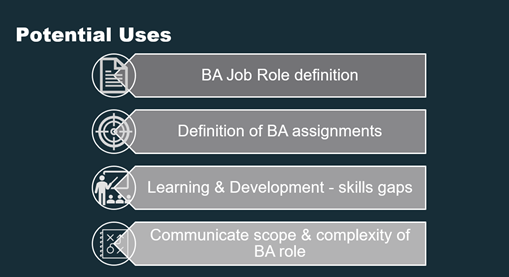 We also have plans to collaborate further with our friends at SFIA now we have begun this work. The ideas we have are set out below but again, do tell me what else you would like to see by dropping me a line at saffron.house@iibauk.org.
Signing off for now then
Saffron
---
The magic is in the questions

Will Izzard, Head of Business Change, CMC Partnership Consultancy Ltd
In my work as a change facilitator (I prefer that to change manager – 'management' seems to imply a degree of control that I'm not sure any of us have in human activity systems…certainly not the change-ists!) I spend a lot of time in the process of what I call change therapy. Sure there's always artefacts to produce and workshops to design and run and so on, but for me at least a typical day includes a great deal of what I suppose many think of as the softer side of change – the listening, the empathy, the perspective-taking, the coaching and so on. And that is a successful day; a valuable and worthwhile day. I am on a mission to bring emotion right into the foreground of organisational change work. Emotion is present in even the most analytical activities of organisational life and it would be a mistake to disregard it – for learning, for memory and for just making sense of things.
The thing is, how do we go about doing that? How do we authentically tend to this and provide much needed change therapy, without retraining as psychological and therapeutic professionals as well as change professionals? I think there are things we can do which require us to go a little deeper than our methodologies and frameworks can. Take figure 1. This is what I refer to as horizontal and vertical change. It shows that a change framework (like the excellent Prosci®), bookended by some change design at the start to let us know what it is we're facilitating the change of (overlapping, we are interested in it) and some Business As Usual at the end (so that changes stick) form a sort of time's arrow, left to right horizontal perspective of the change. It moves us from an idea on the left to embedded and adopted behaviours on the right. It doesn't matter if that is achieved in a traditional project approach, or a more iterative agile manner – ultimately we are working our way from left to right.
Now our frameworks are fantastic at telling us where to put our attention as we go along that horizontal plane and what to do once our attention has been suitably directed, but they do not always tell us how. For that, we need a vertical dive for some extra skills.
This is not a criticism of any methodology. They can only go so deep – how can they do anything other than that? They can't be everything. However, words like 'coaching' are thrown around with multiple meanings and with the assumption that everyone is good at it or wants to do it…
…and suggestions like simply having a deep or meaningful or difficult conversation if someone is having a bad time with a change…
…or even just to listen exquisitely.
These are all interpersonal skills and there are many approaches to them. What I'm offering (and what I talk about at length in my upcoming webinar, which you can sign up for here (https://www.iibauk.org/events/1013-virtual-clean-language-) is one option for going deeper. A technique derived from psychotherapy but used in coaching and business too, which works on the principle that asking questions and listening exquisitely will give you far better information than second guessing and sticking to a process in a rote fashion.
The magic is truly in the questions.
"But what kind of questions?"
Well, that is a good question 😊. In fact, that is a Clean Question. One from a set of highly honed therapeutic questions collectively called Clean Language. These incredibly powerful, yet seemingly ordinary, questions work in conjunction with exploring metaphors and are perfect for taking a deep dive and sensitively finding out what is going on for someone or for a team. Come along to my webinar at 5pm on 3rd March to learn about where they come from and leave with a model you can use straight away to move your clients and colleagues from stuck, problem spaces and into positive, desired outcome spaces. Now that is magic.
Will Izzard biography
A professional coach and facilitator of change, Will Izzard is Head of Profession for Change Management at CMC Partnership, with over 25 years' experience in projects and change in business. He is an Experienced Prosci® Practitioner, Chartered Mechanical Engineer and Certified Symbolic Modeller (therapeutic metaphor work). He is interested in the blend of change facilitation (directing attention on what to do) with interpersonal skills (how to actually do it). He believes that lasting change is brought about by small interventions that build the confidence and skills of others so that they achieve more and experience a deep level of learning. His latest development areas include helping clients construct metaphors from personal outcomes to visions and change initiatives, and exploring the neuroscience of change. Will thrives on applying novel ideas for an organic and developmental approach to change – building on what works to create something new.
---
World's most ambitious automation project

World's most ambitious automation project – what's it all about?
With 61,000 people delivering services to millions of customers, Capita believes its own businesses need to embrace automation to maintain their competitiveness, retain customers and secure new ones. Based on our Chief Executive's expectation that every Capita business will have at least one automation project implemented, we embarked on what we believe to be the world's most ambitious automation project.
Automation – less "Halt who goes there" and more "Allow me"
So, when we say automation and robotics, what do we mean? Well we promise you our vision of the future does not involve C3PO, Robocop, iRobot, cogs, chains or oil. We're talking about the 4th industrial revolution, software automation. Our solutions take the robot out of the human, they complete the mundane non-value add tasks leaving people to be creative and do the things that people are great at and help our organisations to grow.
Software automation comes in many forms. The most talked about is Robotic Process Automation, (RPA). RPA refers to software robots that can complete actions sitting on your desktop as a virtual assistant or completely on their own. According to the latest forecasts from Gartner, the RPA sector is forecasted to grow 19.5% to $1.89 billion in 2021.
Other automation solutions include;
• Artificial Intelligence (AI) – A broad term that covers a multitude of technologies that provide intelligent decision-making capabilities. Examples of which include Machine Learning and Natural Language Processing.
• Cognitive Services (AI) – A combination of technologies that provide functions such as converting speech to machine readable text to facilitate automation. Another example would be text analytics, reading strings of text and making decisions as well as understanding the sentiment of the text being read.
• Optical Character Recognition (OCR) – Reading and extracting data from scanned images, e.g. Passports.
In Capita, we have a number of these technologies embedded into our Hyper-Automation platform to solve critical business problems.
I know what you're thinking – sounds great, but I don't want to be replaced by a Robot
Let's address the key burning question.. Does this mean we will all be replaced by Robots? The short answer, no. Automation is designed to augment an existing workforce with supportive capabilities. Without the key aspect of humans, we wouldn't get very far.
From our experiences to date having designed and implemented automation solutions for multiple organisations within both the private and public sectors, the benefits are broad.
Saving money isn't the only outcome. Automation increases efficiency across organisations. It improves employee morale as it allows workforces to focus on more challenging and thought-provoking activities. It allows for organisations to increase compliance. It reduces error introduced by the burden of volume within administrative tasks. It opens the door to deeper insights and analytics regarding performance. Furthermore, it allows organisations to adapt quickly, a digital workforce can be scaled instantly to allow you to respond to real time problems in real time.
An automation project in the life of a Business Analyst
A Business Analyst is key to the success of an automation project. Our role is to firstly understand which technologies are out there, what's available and how we could use them.
Secondly, we need to understand the organisation problem at hand. Rarely is a process suited to automation from the get-go. The golden rule is that "a bad process automated is still a bad process". We would look to incorporate a journey of process improvement first, optimising processes and eliminating waste. Factoring in automation as we go, ensuring processes are designed to maximise automation where it best fits.
So we have all of that, what happens next? Clear requirements gathering and documentation. We begin to create the To-Be state in collaboration with key stakeholders. The automation elements could be a mixture of attended or unattended automation. We translate the business needs into technical language for our development teams to develop and work with process owners to re-engineer. One key measure of a successful automation project is being able to understand all the possible variants to the core process. Capturing these exceptions and defining how they will be handled will ensure a smooth roll out.
Planning is key, a monsoon of change into the business will likely not work out well. A clear plan is required to ensure all elements of the new To-Be state are rolled out in a structured manner allowing the business to implement it.
What can you take away from our experiences?
1. Business maturity is key – don't forget that "a bad process automated is still a bad process". We found a need to re-engineer and use LEAN methodologies to improve processes before introducing automation.
2. Not all processes are followed by everyone all of the time– the As-Is process written down isn't always what actually happens 'on the floor'. This is important to address to ensure any automations are based on the truth of the process being followed. Avoiding any nasty surprises on go-live.
3. Capture hearts and minds – key to successful delivery is stakeholder engagement. Automation is a fast-evolving world and can be quite a daunting one. By supporting our clients with training and knowledge sharing, we ensured that they were on the journey with us. Ultimately leading to better engagement and understanding.
4. Sell the many benefits – some people think automation is a solution to replace people. This is untrue, automation is a support solution, not a replacement one. To reduce these concerns, you need to work with and educate the work force on the wide-reaching benefits of automation.
5. Solve the problem – don't shoehorn automation where it doesn't fit. Always focus on resolving the business problem, and that is nearly always done via a combination of approaches.
Found this interesting? Why not book onto Mani and Aimee's webinar 'Taking the Robot Out of the Human' on 23rd February by clicking here.
Contact the authors;

Zohaib Ahmed – Business Analyst, Automation Practice at Capita.
Gavin Clarke – Business Analyst, Automation Practice at Capita.
Mani Basra – Lead Consultant Business Analyst, Automation Practice at Capita.
automation@capita.com
www.capita.com
https://www.capita.com/expertise/software/automation