On this page we share with you the results of a collaboration with SFIA in early 2021. IIBA UK mapped the six areas of the BABOK shown below, to the relevant professional skills from the SFIA framework that we believe the BA will use when performing relevant tasks.
We hope these mappings can be used in the following ways – there may be others and we are really keen to hear your thoughts on your experience of applying them. Just email saffron.house@iibauk.org to pass these on.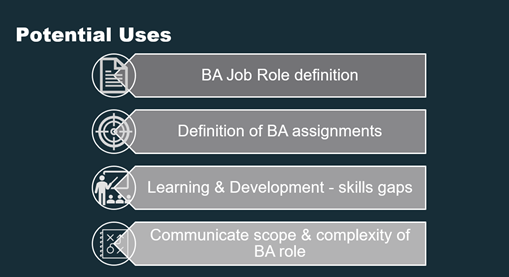 Here is Version 1 of the mappings.
If you want to know more about SFIA or how the mappings came about you can view the recording from our webinar on the topic in February 2021. At the session, we introduce the mappings and explain how we think they can be used. The recording is around 60 minutes – note that you must be logged in as an IIBA UK member to access this.
You can also read more about the mappings on our blog.